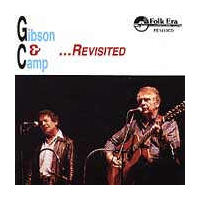 *Did not appear on original Gate Of Horn LP.
This is the "remake" of the influential Gibson & Camp At The Gate Of Horn album, with the songs and the between song banter repeated, and with three additional songs including their signature Well, Well, Well and the Lightfoot cover For Lovin' Me. Purists may say that nothing matches the first recording, but most fans agree that each recording has its unique strengths.
A recording of Well, Well, Well from the 1960 Newport Folk Festival, originally released on a Vanguard LP of that festival and later on Greatest Folksingers of the 'Sixties CD (LP 1972, Vanguard VSD-17/18), also appears on the Vanguard CD Folk Duets 79511 (1998). A live recording of Skillet Good and Greasy appears on the Hootenanny Vol 2 LP (1963), Crestview/Elektra CRS-7807.