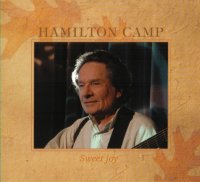 Listen to clips of all the songs here
This is Hamilton's final CD, recorded during the summer and completed - including artwork - just days before his death. It's a beautiful mixture of folk, jazz and blues, with several carefully selected covers, a rerecording of his own folk classic Pride Of Man, some classic poetry set to his original music, and some wonderful new original songs, including my favorite, Long Train (listen to clip).
Musicians are Hamilton Camp, Paul Barrere, Ken Lyon and James Lee Stanley, who also produced.
Review by Michael Parrish, Dirty Linen
Hamilton Camp Sweet Joy [Beachwood BR 2471-2 (2005)]
Singer/songwriter/actor Hamilton Camp capped off an impressive career with Sweet Joy, which he finished recording just before his passing in 2005. This bittersweet, unabashedly romantic recording marked Campís first recording in many years, and it proved that both his muse and his reedy, unabashedly romantic voice had lost none of their charm. Campís collaborators, guitarist-producer James Lee Stanley, bassist Ken Lyon, and Little Feat guitarist Paul Barrere, provided a tasteful but uncluttered instrumental setting for Campís memorable swan song. (MP)
--Copyright 2007 Dirty Linen Ltd
*Note: The song listed on the CD as Celts/Go No More A Rovin', is in fact a combination of two poems, The Stolen Child, by Yeats, and Go No More A Rovin', by Byron, set to original music by Hamilton Camp. Although The Stolen Child is not in the title, it is actually most of the song. Hamilton added the Byron poem at the end because it just seemed to fit nicely.
This song is one of my two personal favorites on the CD, and it's the one that almost didn't make the cut. Late in the recording process, he told me he thought he would have to drop the song, because he couldn't get the recording down the way he wanted. I told him I loved the song, and urged him to try again. He did, and this time he was very happy with it. And so am I.